Below is a short summary on VCF – VMware Cloud Foundation and how to setup a demo lab!
Introduction:
Just like how we evolved from traditional hardware/network/storage approach which was siloed and had to be managed by different team/vendor to CI and HCI infrastructure – which is integrated solution for compute, storage and networking.
Similarly, VMware has come up with VCF – VMware Cloud Foundation which is an integrated software solution, includes vSphere (ESXi and vCenter Server for compute), VSAN for Software Defined Storage, NSX for Network Virtualization & Security and vRealize Suite for cloud management. All this are placed in single platform which can be installed in existing on premise datacenter as private cloud or run as a service within a public cloud.
Note: Dell VxRail and VCF work together very well. It is not mandatory to have only VxRail, VCF also works with all other supported hardware for vSphere / VSAN.
Cloud Foundation Architecture:
VCF supports two architecture:
1. Standard Architecture Model
2. Consolidated Architecture Model
Note: We can convert to the standard architecture by creating a VI workload domain and moving the user workload domain VMs from the compute resource pool to the newly created VI workload domain.
Standard Architecture Model – This is the preferred model, in this model management workloads run on a dedicated management domain and user workloads are deployed in separate virtual infrastructure (VI) workload domains. Each workload domain is managed by a separate vCenter Server instance which provides for scalability and allows for autonomous licensing and lifecycle management.
Reference Architecture for Standard Model: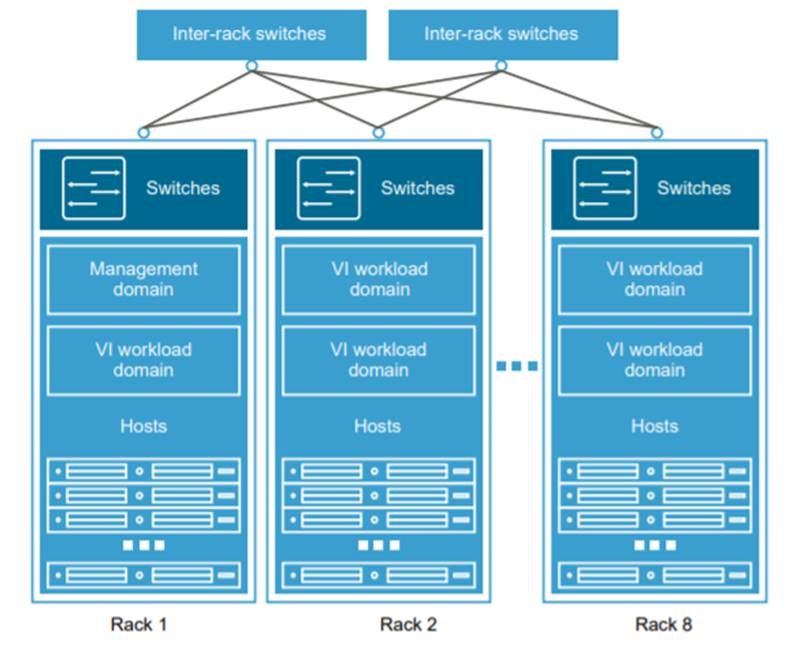 Consolidated Architecture Model – This architecture model is used for specific use cases and POC environment. In this model, the management and user workload domains run together on a shared
management domain. The environment is managed from a single vCenter Server and vSphere resource pools provide isolation between management and user workloads. The consolidated architecture does not support NSX-T or the automated deployment of Horizon and Enterprise PKS.
Reference Architecture for Consolidated Model: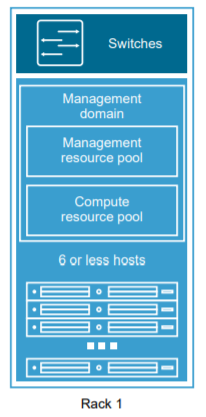 Deploying Cloud Foundation:
To deploy a simple VCF Lab environment we need a minimum of 4 ESXi hosts with supported version of ESXi installed and VSAN compatible.
* ESXi installation can also be done via cloud builder appliance which has inbuilt VIA – VMware Imaging Appliance.
Steps:
1. Deploy Cloud Builder VM, which can be downloaded at https://my.vmware.com/web/vmware/info/slug/datacenter_cloud_infrastructure/vmware_cloud_foundation/3_9
The Cloud Foundation Builder VM is a VM which includes the VMware Imaging Appliance for installing ESXi on your servers. After you image the servers, use the Cloud Builder VM to deploy and configure the management domain and transfer inventory and control to SDDC Manager. During the deployment process, the Cloud Foundation Builder VM validates network information you provide in the deployment parameter spreadsheet such as DNS, network (VLANS, IPs, MTUs), and credentials.
Note: This VM can be deleted post the VCF development process. Make sure this VM is deployed in network from which it has access to all ESXi hosts, DNS, NTP etc.
2. If ESXi hosts is not already installed, we can use cloud builder VM to do. Reference: https://docs.vmware.com/en/VMware-Cloud-Foundation/3.9/vcf-39-ovdeploy-guide.pdf (Page: 17)
3. Download and Complete Deployment Parameter Sheet
A sample configuration sheet can be downloaded from https://my.vmware.com/web/vmware/details?downloadGroup=VCF390&productId=945&rPId=39121
The deployment parameter spreadsheet provides a mechanism to specify the required deployment information specific to your environment. This includes information about your networks, hosts, license keys, and other information. The spreadsheet is downloaded from the Cloud Builder VM. The completed spreadsheet is then converted to a JSON file. The deployment parameter spreadsheet can be reused to deploy multiple Cloud Foundation instances of the same version.
4. Initiate the Cloud Foundation Bring-Up Process
During bring-up, the management domain is created on the ESXi hosts specified in the deployment configuration spreadsheet. The Cloud Foundation software components are automatically deployed, configured, and licensed using the information provided.
5. Configure Dual Authentication
You must configure dual authentication in order to perform certain tasks, such as updating or rotating passwords and configuring NSX Manager backups. – Reference: https://docs.vmware.com/en/VMware-Cloud-Foundation/3.9/vcf-39-ovdeploy-guide.pdf (Page: 34)
Once the above steps are performed you would have a VCF environment which includes vCenter Server with a 4 ESXi host cluster for management workload – The cluster will have following VMS:
– 1 * vCenter Server
– 2 * PSC
– 1 * NSX Manager
– 3 * NSX Controllers
– 1 * SDDC Manager Appliance
– 3 * Loginsight Appliance
Now you can access SDDC Manager and configure workload domains for VI workloads. You can either use the management cluster for VI workload which will make this consolidated architecture or can create a new VI workload domain with a minimum of 3 ESXi host for Standard architecture.
There is a Demo Lab which you can practice using this link: http://interactivedemos.democenter.dell.com/v2/VCF/index.html
Reference for above write up: https://docs.vmware.com/en/VMware-Cloud-Foundation/3.9/vcf-39-ovdeploy-guide.pdf